ROCK HARD 4X4™ PATRIOT SERIES FRONT BUMPER FOR JEEP GRAND CHEROKEE WJ 1999 - 2004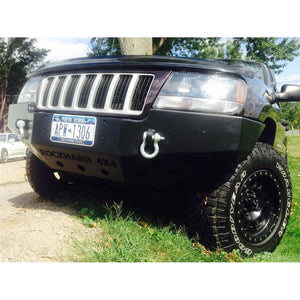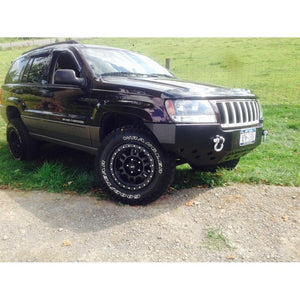 Rock Hard 4x4 is very proud to offer the heaviest duty and highest quality Full Width front bumper for the Jeep Grand Cherokee WJ 1999 - 2004.

PLEASE NOTE: Some early 2004 WJ's have rounded bottom headlights. These are not compatible with our bumper. You must have flat bottomed headlights, same as you see in our product photo WJ.
We have a special place in our hearts for this front bumper. Our full width is our top of the line flagship armor upgrade for the WJ. It looks as good as it performs and when you see one installed on a stranger's Jeep you want to walk over and touch it. Clean lines, exact fitment, and included features make it the undisputed leader in WJ full width offerings.
With so many bolt on options available this is also one of the most versatile bumpers out there!
Not all bumpers can tackle all trails. Sometimes it takes a full width, tire covering, fender protecting, 1/4" thick plate steel bumper to survive your toughest adventures. This is that bumper. It's the big kid on the block with a look that's all it's own. Bolt on winch mount and brush guard ready and installs in minutes - our full width is a healthy does of bolt on armor that will cure what ails ya'.
Construction
It's one thing to be Made in USA. It's another to be given the time, quality, and craftsmanship only RH4x4 offers. Each front bumper is laser cut from 1/4" steel to live up to it's lifetime guarantee and give you precise fitment. It's then bent and formed into it's shape, hand welded, and ground down for a look no other manufacturer (overseas or domestic) can offer. Each bumper is then powder coated in house, by hand, individually - so every nook and cranny is protected. The inner structure is a geometry test of gussets and support. We sleep soundly at night knowing RH4x4 customers can play off road, winch recover, tow, and do-all with our armor installed, then rinse and repeat.
Rock Hard Grand Cherokee WJ Front Bumpers are made out of 1/4" thick steel.
Features
Our bumper is more than a plate of steel, it's a fully loaded road armor upgrade bolted to the front of your Jeep. With standard included upgrades like double welded recovery shackle tabs and straight to the frame horn mounting - our bumpers scream Premium. Maybe that's why they are such head turners. When you see a RH4x4 front bumper on the trail - you just get it.
This bumper uniquely hugs your frame as closely as possible giving you maximum approach angle for extreme off road adventures.
Ease of Installation
It's been known to take longer to uninstall your OEM front bumper than it takes to install our front bumper. This is achieved through our unique "DTF" or Direct-to-Frame mounting method. This gives us not only a precise mounting location to your frame horns it also makes for the most secure way to mount your bumper. Plus, unlike overseas produced bumpers with a "one size misfits all" approach, we don't cut any corners when it comes to one of the most important upgrades you can add to your Jeep.
Components
RH4x4 Front Bumpers are very recognizable for two major reasons: owners bragging about how strong it is and it's innovative features that come standard. What makes up a RH4x4 bumper is what makes them so strong.
Extreme approach angle. By tucking our bumper as close to your grille as possible we gain an industry leading approach angle.
Double welded recovery tabs. We go a step further than competitors by not only welding the front of our recovery tabs to your bumper skin, but then also spin the bumper around and weld the backside as well. Strength and confidence only found in a RH4x4 bumper.
Our heavy duty Recovery Shackles can be found here.


Driver and Passenger sides feature tapered and welded end plates that not only give you clearance for larger tires but protect your front quarter panels, grilles, and marker lights.


Hand welded / ground finish - our bumpers look gorgeous because of their individualized finish work. Prior to powder coat each bumper is given it's own moment in the spotlight. We hand weld all our bumpers then grind down the welds. This gives us the opportunity to spot any defects or imperfections prior to shipping to guarantee you receive a gorgeous looking armor upgrade.

OPTIONAL
bolt on winch mount RH-1015-A
gives you the option to mount a recovery winch. The winch mount also has a welded on mini stinger and integrated fairlead mount.

What comes in every kit:
Front Bumper
Hardware
Installation Instructions
Three Reasons Why:
1/4" thick plate steel outer sections
Maximum approach angle
Full width coverage
---
FAQ:
Is any welding required?
No. Our front bumper mounting system allows for a DIY no-weld, truly bolt-in install. Optional front crash bar trimming may be required - it's a quick 5 minute trim at the ends of the bar.
What is this bumper made of?
1/4" thick plate steel.
What finish is available?
RH4x4 front bumpers ship powder coated black with a semi-smooth, semi-gloss finish. Raw, paintable finish available upon request.
Where is this bumper made?
This product, like all RH4x4 parts, was designed, developed, tested, manufactured, and if applicable, powder coated, and shipped in the USA. And we don't mean the 75% legal standard to be able to say Made in USA. We are 100% Made in the United States of America!