ROCK HARD 4X4™ PATRIOT SERIES REAR BUMPER W/ TIRE CARRIER FOR BUSHWACKER™ FLAT FLARES FOR JEEP CHEROKEE XJ 1984 - 2001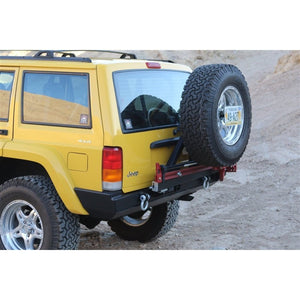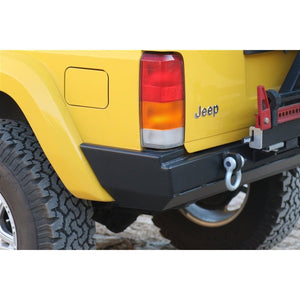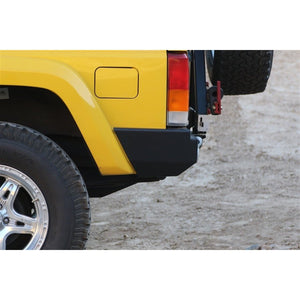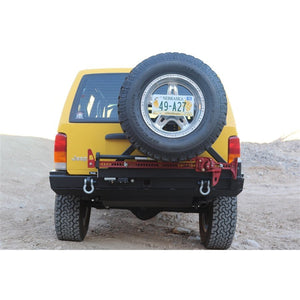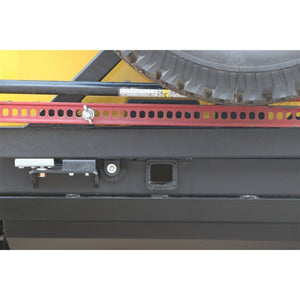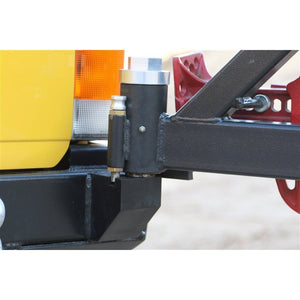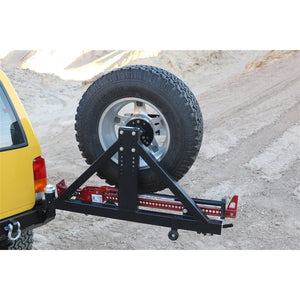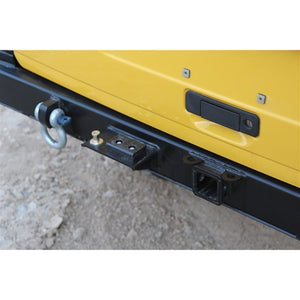 RH4X4 FEATURES:


Rattle Free Operation
Dual Stage Latch
Integrated 2" Receiver
Integrated Hi-Lift Jack Mount
Black Powder Coat Finish
100% Made in USA
Lifetime Warranty
SPECIFICALLY DESIGNED FOR BUSHWACKER "FLAT" FLARES


The RH4x4 Rear Bumper and Tire Carrier is one of our favorite products. Not only does it have the strongest mounting system on the market, it's also the easiest to live with. We've seen people struggle to open or close their tire carrier cage and thought, "that's not the way it has to be". Our proprietary dual-stage latching mechanism and "pre-load" design prevent vibration and wobbling to help ensure whether you are on the toughest off road trail or loading gear into the back of your Jeep.

Our Rear Bumpers are full width to protect your vulnerable corner panels and tail gates including protrusions below your tail lights. With end plates designed to provide maximum departure angle and clearance, our design prevents you from getting "hung up" on tough trails and sharp, off camber turns. Plus, with oversized tires, rubbing and tire gouging is never a concern. Our rear bumper is finished off with an overhang under your tub for a clean look that also provides a skid surface when reversing over an obstacle.

Our rear bumper feature our exclusive frame tie-in's that extend the full length along the sides of your fuel tank. This replaces your factory receiver for the strongest Cherokee rear bumper mounting system on the market.

Strength and Function
Your rear bumper has the potential to take more abuse than any other body armor on your Jeep. Whether its on road traffic collisions or off road rock damage, you need some serious armor to keep you safe. 1/4" thick plate steel corner guards with 3/16" x 2" x 4" thick tubing center sections combine to offer what is truly the strongest bumper you can install. High clearance corners, user friendly "1-finger operation" latch, and a weather resistance finish make this rear bumper combo a no brainer.

The secret to our tire carrier's success is our in house designed and constructed hub assembly. Instead of a single bearing system like competing models, we use a dual bearing and race combo for smooth and consistently reliable operation. See our components section below for complete details.

All this strength adds up to one of the best spare tire size carrying capacities on the market: a massive 38" tire!

Options
Longer off road excursions require more cargo and fuel. Our Rear Bumper's unique tire design is the perfect platform for accessories. Our optional heavy duty driver side Tank Mount and Cargo Rack bolt on to our tire carrier to give you space you need for extended range or duration trips.

PLEASE NOTE: RH-2003-RT Passenger Side Tank Mount Not Compatible

When installing our rear bumper you should also consider protecting your exposed and critical fuel tank. Our bolt-on RH-3009 Fuel Tank Skid gives you a plate of solid 3/16" steel armor. Once your gas tank goes your trip is over and it's time to call a tow rig. This simple addition to your XJ gives you peace of mind and increased capability.

Ease of Installation
It does not take a PhD to install the best rear bumper and tire carrier on the market. No welding is required and the truly bolt on design makes your garage your own off road shop.

Components
RH4x4 Rear Bumpers and Tire Carriers are very recognizable for two major reasons: owners bragging about how durable it is and it's clean, functional design. What makes up a RH4x4 Rear Bumper and Tire Carrier is what makes it so strong.

High clearance design to maximize departure angle.



Newest design allows you to move your spare tire up and down or in and out for best fitment and visibility.



Integrated 2" receiver hitch included in every rear bumper.



Safety pin to prevent tire carrier closure when you are stopped on an angle and accessing rear compartment.

Integrated welded on CB antenna mounts standard on every tire carrier.



Welded on security tab allows you to use a cable style lock to prevent Hi-Lift jack theft.



Integrated Hi-Lift jack mounts.



Zerk style grease fitting to service hub assembly.


Welded on heavy duty 1" wide recovery shackle tabs. Our tabs are welded onto the face, travel through the bumper, and are again welded onto the backside of the bumper's skin. This is standard Rock Hard 4x4 ingenuity and simply not offered by other manufacturers.

Frame tie-in makes this bumper the strongest XJ rear bumper on the market.

What comes in every kit:
Rear Bumper
Tire Carrier with integrated hi-lift jack mount and CB antenna tab
Hardware
Installation Instructions
Three Reasons Why:
3/16" and 1/4" thick plate steel construction
Integrated tire carrier
Unmatched quality and fitment
---

FAQ:
What size spare tire can I run?
Factory Jeep Wrangler up to 38" spare tire.

Is any maintenance required?
Period greasing of hub assembly is suggested. Simply add grease to the included zerk fitting in the hub assembly after water cross, rain storm, etc.

What options are available?
RH-2003-LT - Driver Side Tank Mount
RH-3009 Fuel Tank Skid Plate
RH-2004 - Rock Rack Cargo Mount

Is any welding required?
No. Our rear bumper and tire carrier is a DIY no-weld, truly bolt-in install.

Do I need to add a CB antenna or Hi-Lift jack mount?
No. Every tire carrier ships with a CB and Hi-Lift jack mount standard.

What if my Jeep didn't come with a rear bumper receiver?
Don't worry! Our Rear Bumper includes a welded in 2" receiver.

What finishes are available?
Rock Hard 4x4 Rear Bumpers and Tire Carriers ship powder coated black with a semi-smooth, semi-gloss finish. Raw, paintable finish available upon request.

Where is this bumper made?
This product, like all RH4x4 parts, was designed, developed, tested, manufactured, and if applicable, powder coated, and shipped in the USA. And we don't mean the 75% legal standard to be able to say Made in USA. We are 100% Made in the United States of America!