WJ Grand Cherokee Rear Bumper WITH Tire Carrier and Rotopax Carrier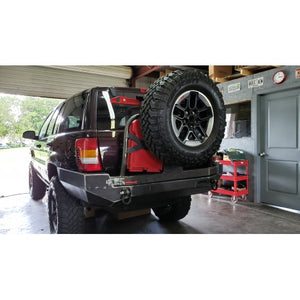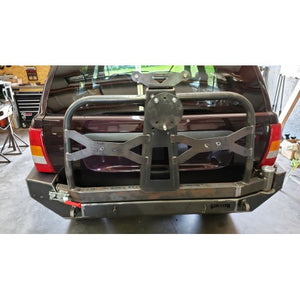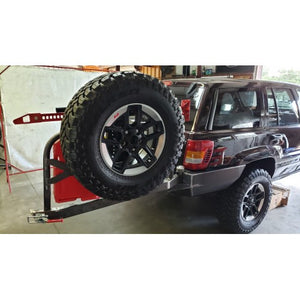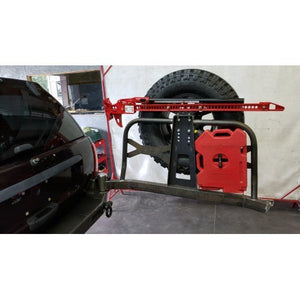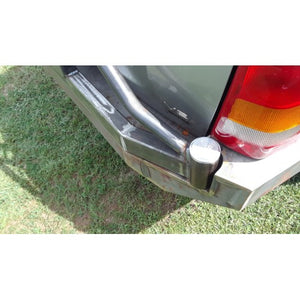 Jeep WJ Bumper: Grand Cherokee WJ Rear Bumper with Tire Carrier Extreme Duty

Great looks, sleek profile, and extremely sturdy WJ Bumper, built specifically for the 1999-2004 WJ Jeep Grand Cherokee. 
**This bumper is currently a 3-4 week build time**
This Grand Cherokee WJ Rear Bumper with Tire Carrier is an awesome upgrade for your WJ, and is fabricated from CNC-formed 1/4" thick steel plate for the brackets, and 3/16" CNC-formed plate for the "skin".  
More than sturdy enough to stand up to the most demanding trails, you're going to be super-happy with your investment when it arrives on a pallet on your doorstep! 
 We think this is a great addition to any WJ Grand Cherokee build!
Fabricated from CNC laser-cut and precision brake-formed 1/4" and 3/16" steel for maximum strength and light weight

Bomb proof spindle/ hinge

Includes two 3/4" thick solid steel shackle tabs

2 RotoPax mounts

Includes mounting hardware

Easy bolt on installation - minor trimming required

Hand built by professional welders

Typically ships within three days from time of order
Note 1: Ships truck freight on a pallet due to the size, and a forklift or loading dock is needed to unload.  They'll charge you a home/residential address surcharge of $75 if you use a home or home-business address, so we recommend using a friend's commercial business address instead, if you don't have access to your own loading dock at work.
Note 2: Shipped raw steel.  Due to frequent damage to powdercoating during shipping and to save you packaging cost, we recommend you have it powdercoated (or painted to match your Jeep!) LOCALLY instead.  You're not going to spend any more money having it done locally (should run you around $200), and that way you can actually see the paint/powdercoating samples in person and hold them up to your Jeep to see how well they match.  That said, we can have the bumper powder coated in either black wrinkle, or black orange peel finish prior to shipment for an additional $250. This is an additional fee, and is not included in base price. Please contact us for invoicing. :-)