Jeep Grand Cherokee 93-98 ZJ Death Wobble Fix for All Engines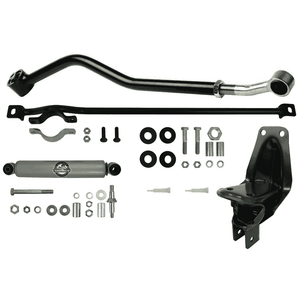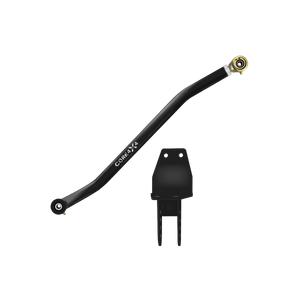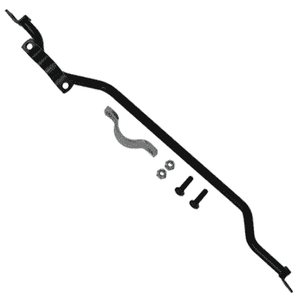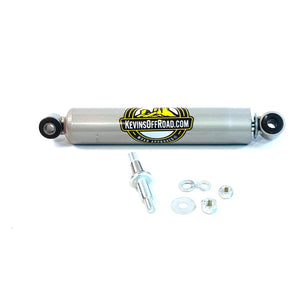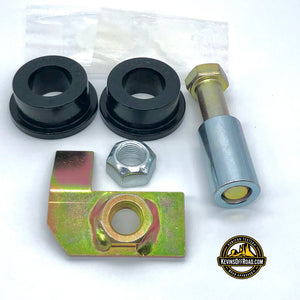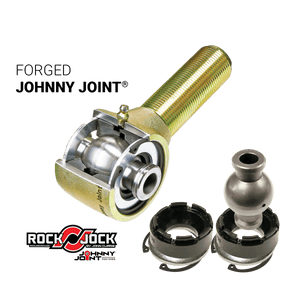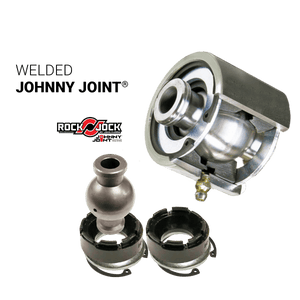 Jeep Grand Cherokee ZJ Death Wobble Fix for All Engine Sizes
The Jeep Grand Cherokee ZJ Death Wobble Fix is our most popular and effective Death Wobble fix package for the ZJ Grand Cherokee.  These parts, properly installed on your ZJ Grand Cherokee AT THE SAME TIME, will give you somewhere around an 80%-95% chance of curing your case of Death Wobble COMPLETELY.  We've been experimenting with and learning about the root causes of Death Wobble since 1999, and have experience that VERY few other shops possess.  In fact, we get calls for help from other 4x4 shops, and auto mechanics from all over, requesting our help and proven replacement parts to solve their customers Death Wobble problems.  We are the most well-known source, so I feel very comfortable in recommending these parts together as a package, not only because of our experience in curing literally hundreds of Death Wobble problems for over 10 years now, but because few shops know as much about Death Wobble as we do.
In fact, we have invented several products SPECIFICALLY designed to cure Death Wobble and reduce the "play" in the front end of the ZJ Grand Cherokee.  Fortunately, the ZJ Grand Cherokee Death Wobble cases are easy to cure with the correct parts.  This package includes ALL the following items that we recommend people purchase and install TOGETHER when they are having Death Wobble problems.  These items are also available separately if you already own one or more of these components.
KOR-1199 Super Durometer Bushings upper and lower (Pkg 1 Only)
KOR-1109 x 2 Polyurethane Lubricant Tubes (Pkg 1 Only)
(Pkg 1) Core 4x4 - Tier 3 Front track bar built with 1.5″ OD 5/16″ Wall DOM tubing, with Polyurethane on fixed end and Forged Currie Johnny Joint on the adjustable end. (Includes KOR Super Hard Durometer Bushings for axle end (fixed).
(Pkg 2) Core 4x4 - Tier 4 Front track bar built with 1.5″ OD 5/16″ Wall DOM tubing, with Welded Currie Johnny Joint on fixed end and Forged Currie Johnny Joint on the adjustable end.
KOR-7401 Hard-KOR Steering Box Brace w/ mounting hardware
KOR-9309 Hard-KOR Steering Stabilizer w/ mounting hardware
Death Wobble can be triggered by MANY different front end components and alignment settings, so be aware that there is STILL a small chance you may need more assistance after these components are installed.  If so, don't hesitate to give us a call, and we'll talk you though getting this problem solved once and for all.  I have searched long and hard to find what components work, and it's now available to you to cure YOUR Death Wobble problem.
(If you've not seen our write-up on Death Wobble, please read that first to understand better of what's going on under your Jeep when the front end begins shaking after you hit a bump with the right front tire.)
Don't delay your fix.  Get it handled today, and get your Jeep back to driving safely down the highway once again.
All products in this kit are proudly American-Made, except the steering stabilizer, which is imported Unfortunately, it's almost impossible these days to find a US-Made steering stabilizer, but we're still looking!
NOTE: A sway bar bushing mounting kit WITH FLAT EARS is required since the factory holes in the frame are used. The OE-style sway bar brackets with bent ears will not work with our brace.  We recommend the Greasable Energy Suspension version, which will also eliminate some body-roll versus the old OE-style rubber bushings.
Here is a link to the flat-ear sway bar bushing kits: 
Follow the link for how to check your anti-sway bar diameter, courtesy of suspension.com: Sway Bar Measuring Tape
NOTE 3: A select few have had fitment issues with respect to width of their frame rails as well as aftermarket lower radiator hose fitment conflicts. If your Grand has been in a front end collision and you'd prefer to *NOT* modify the frame mounting holes by "ovaling" them out, please send the brace back and I'll give you a full refund in accordance with our Return Policy.  Also, our brace was designed with the factory Jeep/MOPAR lower radiator hose, and we've had a few fitment issues with customers who are using non-dealership replacement radiator hoses.  It might be time to replace your thermostat and radiator hoses ANYWAY, so keep that in mind when you order and install our brace.