WK & XK 2.0" Leveling Lift Kit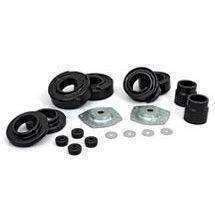 Special Note: We typically keep one or two of these on the shelf at all times, because we know Daystar doesn't stock them; they make them to order, requiring our customers to wait 3 weeks until they ship.  If you're shopping around, assume that you're going to wait 3 weeks for it to ship, unless they physically have one in their OWN warehouse, like we do.  -Kevin
Similar Height XK on Crown King Trail Video 1 of 2 - XK Commander with Brand New Budget Boost Video 2 of 2 - XK Commander with Brand New Budget Boost
Comfort Ride Lift Kits combine the same proven technology found in our Leveling Kits but with the addition of rear lift. We were the first to enter the Leveling Kit market in 1995. Though there have been many companies that have entered the market since, our Lift & Leveling Kits offer many advantages that the others can not claim:
No Metal-On-Metal Contact - we use Polyurethane material in its Leveling Kits for a reason: It's an insulator. It absorbs the Noise, Vibration, and Harmonics (NVH) that come from the suspension and avoids transmitting them to the passenger compartment. Competitors use steel or aluminum in their Leveling Kits. If you were to take apart any factory suspension, you are going to find rubber, polyurethane, and often both in a typical suspension. These pieces are there for a reason; they absorb the NVH. Sure, steel makes a great hammer, but would you want to ride on it? Lifetime Warranty - All of our Lift & Leveling Kits are backed by a Lifetime Warranty. Basically, in the unlikely event you experience a problem with a product, we'll take care of it. Made in the USA - All of our Lift & Leveling kits are manufactured at our plant located in Phoenix, Arizona. Most other Leveling Kits are manufactured overseas. In-house manufacturing ensures a level of quality control that no one else can match....and we have the ISO9001 certification to prove it. Top-Mount Easy-Install Design - Most late-model vehicles have gone to a strut type of front suspension. Most of our applications are a Top-Mount design, meaning that our components bolt to the top of the factory strut assembly. This type of leveling kit does not preload the factory coil spring, so factory ride quality is maintained, and installation requires only simple hand tools.
Comfort Ride Lift Kits work within the factory suspension design, meaning that we work within the factory's design parameters to achieve an increase in ride height. Because we work within the factory design, there are not a bunch additional modifications involved that adds complexity and expense to the kit. Everything needed is included in the kit; there's everything you need and nothing you don't. If there are extra items required, such as longer shocks, it's clearly stated in the application description.
Front lift is generally the same as with our leveling kits, while rear lift comes in the form of rear coil spring spacers, longer shackles, add-a-leafs, or a block and U-bolt kit. Which method used is spelled out in the application description. Our Lift Kits are the perfect solution for gaining ground clearance and the room to step up a few tire sizes...Do your homework and you'll see that we've done ours!
Features:
ComfortRide Suspension Coil Spring Spacer Kit High Density Progressive Polyurethane Lifts Vehicle Without Sacrificing Ride Quality or Load-Carrying Capacity Easiest Way to Add larger Tires & Wheels Maximum recommended tire size: 31" Improves Ground Clearance Limited Lifetime Warranty Includes Front Strut Spacers, Strut Plates and Rear Coil Spacers