Clayton Off-Road 07-18 JK JEEP Wrangler OVERLAND+ SHORT CONTROL ARM KIT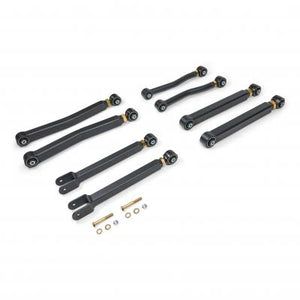 ***Free Shipping to lower 48 States US***
Product Features: 
Bolt In Design
GIIRO Joints To Isolate Road Noise & Vibration
GIIRO Joint Adjuster
Lifetime Warranty*
MADE IN THE USA!
Our Overland Plus Series Jeep Control Arms provide the strength and adjustment you need, now featuring our dual durometer, self-centering, maintenance Free GIIRO Joint bushings. These control arms will not only increase flex and offroad performance, but also improve onroad performance and allow proper axle adjustment. And with a LIFETIME WARRANTY, you will have the confidence to take your Jeep on your next adventure.
The GIIRO, with it structured anatomy and superior isolator technology, GIIRO has bridged the void between rubber and flex joints for the ultimate touring bushing.
Hundreds of hours of development, combined with thousands of hours of testing have lead to this superior solution for the frustrated off road enthusiast community. Introducing the ultimate off-road touring joint featuring the highly advanced multi compound GIIRO bushing.
GIIRO is a free pivoting, self-lubricating, self-centering, silent in operation and maintenance free bushing. Its structured anatomy matched with superior material formulation allows two distant worlds to meet as one, providing the desirable comfort for daily driving and easily transitioning to meet the extreme limits on rugged off-road terrain.
With GIIRO, the days of compromise are over!
If you want the best control arms on the market with ZERO maintenance, look no further. 
OVERLAND PLUS JK Short Control Arms (8 Adjustable Arms) 
Over new Overland Plus control arms offer Giiro joints at both ends of your lower control arms. TheGiiro Joint is a dual durometer, self centering joint, that is maintenance free.
The outside part of the bushing is softer, to isolate road noise and vibrations and allow the bushing to articulate. It has 13.3 degree of movement in each direction, or 26.6 degrees combined per bushing. Since we use these bushing at both ends, you have over 50 degrees of unrestricted movement. The inside area of the bushing is harder and teflon infused to act as a bearing surface for the center pin which is free to twist as the suspension moves up and down. Combined with our 1/4 wall tubing lower control arm tubing, premium tube inserts, 5/16s thick welded lower control arm housing and a forged adjusters, you have the Ultimate control arms available.
And with our LIFETIME warranty, these are the best and last set of control arms you will need.
 These adjustable lower JK arms will work on both a 2dr or 4dr model.
COR-1708100 - JK FRONT LOWERS

Center to Center STOCK = 22.625"
Center to Center MIN = 22.480"
Center to Center MAX = 24.175"

COR-1708101 - JK FRONT UPPERS

Center to Center STOCK = 18.750"
Center to Center MIN = 18.046"
Center to Center MAX = 19.562"

COR-1709102 - JK/JL REAR LOWERS

Center to Center STOCK = 19.764"
Center to Center MIN = 19.686"
Center to Center MAX = 20.566"

COR-1709103 - JK/JL REAR UPPERS

Center to Center STOCK = 17.425"
Center to Center MIN = 17.290"
Center to Center MAX = 18.665"
All Clayton Off Road Inc. control arms carry a lifetime, no questions asked warranty against bending or breaking.