JKS-125 TJ XJ ZJ Front Adjustable Track Bar 4"+ lift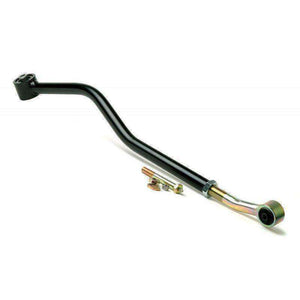 JKS-125 TJ XJ ZJ Front Adjustable Track Bar 4"+ lift
Essential upgrade to any lifted Jeep® still using the OE track bar and experiencing Death Wobble.
The track bar controls lateral movement of the axle housing.  It is attached to the chassis and axle on opposite sides of the vehicle with flexible mounting points to accommodate suspension travel.  Unfortunately, the fixed length of the OE track bar won't accommodate ride height adjustments.  Changing the distance between mounting points forces the axle housing out of alignment with the rest of the vehicle.  Unless corrected, this condition will place unnecessary stress on related suspension and steering components, creating alignment problems, and contribute to the causes of Death Wobble.
Unlike relocation brackets, the JKS adjustable track bar is compatible with virtually any suspension system and allows constant changes as vehicle modifications require.  The ends of each track bar feature bushings specifically chosen to provide maximum off-road performance while minimizing the transfer of road noise and vibrations.  These adjustable track bars are bent to OE specifications for proper geometry and clearance, and the length is easily adjusted in 1/16" increments enabling users to perfectly center the axle housing beneath the vehicle.
HD Adjustable Trackbar Features
Superior quality, extra heavy-duty replacement for original fixed length panhard rod
Variable length design properly aligns axle housing with chassis and prevents undue stress on related components
Fine adjustment threads enable ultra precise axle positioning
Extremely strong 1.25" x 0.156" DOM tube construction utilizes OE bends for correct geometry and clearance
Spherical urethane bushing for unrestricted travel and high performance urethane for steering responsiveness
Zinc plated and powder coated for protection from corrosion and debris
1 Requires 4.0 in. suspension lift or greater.
2 Not compatible with right hand drive vehicles.