Wrangler TJ 97-06 Rear Adjustable Swaybar End Link - Comes in Pair FREE 48-STATE SHIPPING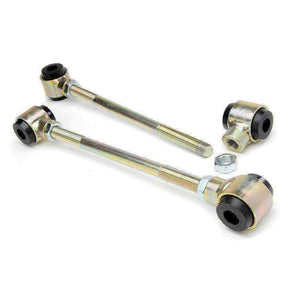 Features:
Correct swaybar geometry on lifted vehicles and improve suspension performance on- and off-road
Maintain proper balance between front and rear swaybars for safer, more predictable on-road driving
Highly responsive bushings reduce loss of motion between chassis and suspension for improved handling
Prevents swaybar from contacting axle housing at full suspension droop
Variable length design allows you to accurately set swaybar operating angle
Special zinc plating applied for corrosion resistance and long lasting protection
Requires 2.5 to 6.0 in. suspension lift.
Not compatible with aftermarket swaybars.