08-12 Dodge Ram Bilstein Single Steering Stabilizer Upgrade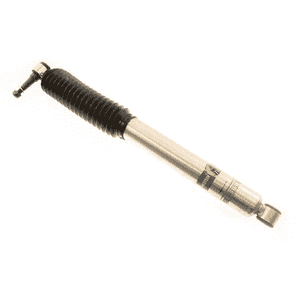 08-12 DODGE RAM SINGLE BILSTEIN STEERING DAMPER

Steering Stabilizer upgrade helps to cure Death Wobble!
BILSTEIN 5100 Series Steering Dampers are designed specifically to help you maintain complete command of your truck at all times, and help reduce the causes of Death Wobble. A 5100 Series Steering Damper is essential when upgrading to larger wheels and tires to ensure proper steering control.
Bilstein 5100 Series Steering Stabilizers utilize the same high gas pressure monotube design found in their shock absorbers, offering instantaneous response to suspension inputs. These steering stabilizers feature digressive valving, reducing vibration and wear & tear on steering components. Designed specifically to replace the vehicle's OE stabilizer, for easy installation. (zinc-plated steel body, Triple-C-Technology coating)
Features and Benefits:
Corrects steering wobble issues often seen with OE dampers
Superior gas over hydraulic design will not fade under even the most extreme driving conditions
Zinc finish with multi-layer unique BILSTEIN coating for extreme surface durability
Vehicle application is specifically tuned by BILSTEIN ride engineers
Lifetime Warranty
SAFETY NOTE: Dodge has recalled some steering components that may affect your truck, including tie rod ends. (we had a customer contact us about a snapped tie rod end on his Pitman arm, rendering his steering wheel useless). Please check your VIN here for recall info: http://recalls.mopar.com and have a professional inspection done for ALL your tie rod ends as soon as you can!