1.5 inch Wheel Spacers for 2005-2018 Toyota Tacoma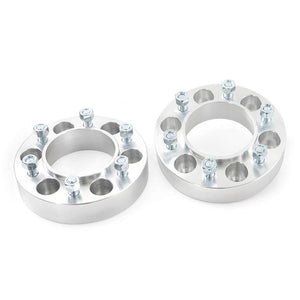 How do you fit bigger, wider tires on your Toyota Tacoma?
Get these heavy duty 1.5 inch wheel spacers that allow you to offset your jeep's suspension to fit the tires of your dreams. And no other brand can give you your dream than Rough Country. These wheel spacers are designed in aluminum to give you shiny corrosive resistant spacers. Sold in pair.
Toyota Wheel Spacers Details
Spaces wheel 1.5" allowing use of wider tires.
Hub centric design.
Made from 6061-T6 Aluminum.
Spacers are corrosion resistant.
Studs are preinstalled.
Fits 6 x 5.6" bolt pattern.
Sold in pairs.
Important notes for the Wheel Spacers
Fits 6 x 5.6" bolt pattern.
Fits: