2 inch Wheel Spacers Jfor Jeep Wrangler JL Fits 5 x 5.0" | Rough Country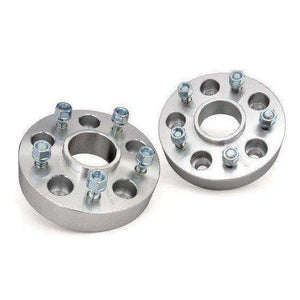 Looking to give your Jeep that extra clearance to accommodate larger tires?
Rough Country Wheel Spacers for the 2018 Jeep Wrangler JL is the perfect option. Gives 2 inches of clearance per side, reducing rubbing due to the wider and larger tires and wheels. And best the wheel spacers come with pre-installed studs. No longer do you need to fudge around to tighten the bolts.
Kevin's Offroad often gets questions like the one below.
Q: What's the difference between Wheel Spacers and Wheel Adapters?
First thing, different jeep models need different wheel spacers and wheel adapters.
Jeep Wheel Spacers:
Wheel spacers widen the fitting underneath to allow you to mount larger tires.
Gives you much firmer grip and traction especially around corners.
Jeep Wheel Adapters:
Wheel adapters help you change the bolt pattern of your jeep. Example from a 4 bolt pattern to a 5 bolt pattern.
You are free to use any size tires - larger or smaller depending on what look you want to give your Jeep.
Q: How do Wheels Spacers Work?
Wheel Spacers allow you to fit custom tires by giving you space between the Jeep's body and your tires, reducing rubbing.
Tires fitted on the edge of the Jeep makes the vehicle sit better while driving on the road.
It widens the distance between the chassis and the tires. Increases the jeep's overall performance.
Gives you better grip and traction when rounding corners.
Are you confused about what part you need or will work for your Jeep? Drop us a line and we will answer all your questions. Our Jeep expert can also recommend parts that will fit right for your vehicle model.
Details about Jeep Wrangler Wheel Spacers:
Spaces wheel 2" allowing use of wider tires.
Hub centric design.
Made from 6061-T6 Aluminum.
Spacers are corrosion resistant.
Studs are preinstalled.
Sold in pairs.
Important Notes for the Rough Country Wheel Spacers:
Fits 5 x 5.0" bolt pattern.
Does NOT fit Jeep JK Models
Wheels Spacers Fit: