JKS OGS120 HD Jeep Track Bar | 2007-2017 JK Wrangler | Front Adjustable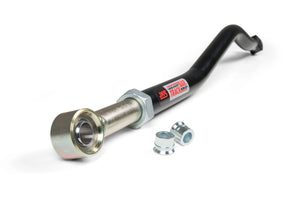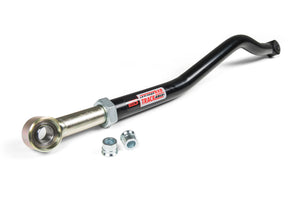 JKS Jeep Track Bar JK Wrangler HD Front Adjustable 1.0″-6″ Lift 
Superior quality replacement for original fixed length panhard rod
Variable length design properly aligns axle housing with chassis and prevents undue stress on related components
Fine adjustment threads enable ultra precise axle positioning
Extremely strong DOM tube construction utilizes OE bends for correct geometry and clearance
The replaceable COM bearing has a self-lubricating, injection molded race and is rated to 42,000lbs static load for long life and reliable function
Includes high-angle misalignment spacers to maximize the angular travel of the COM end.
  Description
---
Upgrade the front suspension of your Jeep Wrangler JK with the JKS HD adjustable track bar. Modern JK suspension technology have increased droop travel to the point that the axle bushing of the track bar was becoming a limiting factor. We have corrected that with the use of a high-misalignment style bushing on the axle end, and the OE style rubber bushing at the frame. Recenter the axle, control lateral forces, and run the longest shocks your springs will allow, this HD bar will do its job to keep you on the trail and out of the shop.
1 Requires 1.0 to 6.0 in. suspension lift.
2 Not compatible with right hand drive vehicles.
3 Not compatible with frame-mounted track bar drop brackets
Kevin recommends upgrading to our KOR-1189-S-KIT SuperDurometer Bushing, Sleeve, and 9/16" Grade 8 Bolt kit if you desire the ultimate in Death Wobble resistance.
This product also available in one of our KOR-9906-JK Death Wobble Kit Package.