Core 4x4 Camp Series Heavy Duty Adjustable Control Arm Set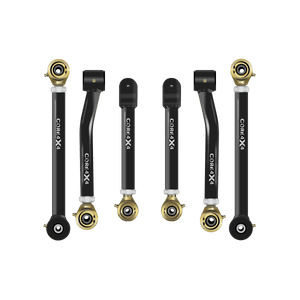 CAMP SERIES COMPLETE CONTROL ARM SET COMPATIBLE WITH JEEP GRAND CHEROKEE WJ (CMP-J-WJ-CS6)
SUPERIOR COMFORT, DURABILITY, AND CONTROL
Introducing the Camp Series Complete Control Arm Set, expertly engineered to be compatible with Jeep Grand Cherokee WJ model years 1999-2004. This comprehensive set significantly improves on-road comfort, off-road durability, and provides superior control — a remarkable upgrade over factory components. Crafted to enhance your vehicle's suspension system, this all-inclusive set is set to redefine your driving experience, whether you're on the road or tackling challenging terrains.
WHAT'S INCLUDED
This complete set includes:
Camp Series Front Upper Control Arms (CMP-J-WJ-FU2)
Camp Series Front Lower Control Arms (CMP-J-WJ-FL2)
Camp Series Rear Lower Control Arms (CMP-J-WJ-RL2)
EXCEPTIONAL BUILD QUALITY
Every component in this comprehensive kit is meticulously crafted using 5/16″ wall DOM Tubing. Featuring our unique tapered polyurethane bushings at the fixed end and the original Rock Jock Johnny Joints at the adjusting end. The improvement over the standard other options is evident, making your vehicle ready for any on-road journey or off-road adventure.
ADJUSTABILITY FOR PERFECT ALIGNMENT
The adjustability of our Control Arm Set allows them to accommodate lifts from 0 to 6 inches. This feature is crucial in maintaining optimal vehicle alignment. By ensuring precise alignment, you're enhancing tire longevity, improving overall handling, and boosting safety. For lifts beyond 6 inches, please contact us for additional options and assistance.
RESILIENT TWO-STAGE POWDER COATING
Our control arms are treated with a resilient two-stage powder coating process. We start with a zinc primer base coat for unmatched corrosion resistance, followed by a top coat of your choice from our selection of 10 striking colors. This process guarantees long-lasting durability and aesthetic appeal.
PROUDLY MADE IN THE USA
We take pride in the fact that our Camp Series is made in our facility in Orem, UT. By keeping our processes in-house, we maintain a hands-on approach to quality control while keeping our prices competitive. Our commitment to sourcing materials locally further demonstrates our dedication to American manufacturing and high-quality products.
EASY INSTALLATION
We've made installation easier for you. The ability to use factory hardware simplifies the installation process. For rusted or stubborn bolts, optional new Grade 8 hardware kits are available separately, providing you with the necessary tools for a seamless installation.
KEY FEATURES
Complete control arm set for a comprehensive upgrade
Significant improvement in on-road comfort and off-road durability
Superior control over vehicle's suspension system
WHY CHOOSE CAMP SERIES COMPLETE CONTROL ARM SET?
Complete Performance Upgrade: This set includes everything you need for a significant suspension upgrade. It offers precise alignment, enhanced comfort, and incredible off-road durability.
High-Quality Construction: By choosing our Camp Series, you're investing in robust, high-performance components that outperform standard factory parts.
Precise Adjustment: Meticulously designed robust, high-performance components that allow full control over your vehicle's alignment.
IN CONCLUSION
Give your Jeep Grand Cherokee WJ the upgrade it deserves with the Camp Series Complete Control Arm Set. Experience improved comfort, superior durability, and exceptional control. Upgrade your vehicle today.