Dodge Ram '94-'02 Hard-KOR Death Wobble Package for 0" to 4" of lift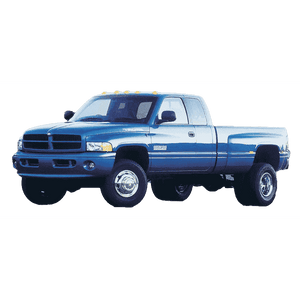 DEATH WOBBLE PACKAGE FOR 1994-2002 Dodge Ram (All Models 1500, 2500, 3500 included)
All products in this kit are proudly American-Made, except the steering stabilizer (made in Germany), and the Mopar Steering Upgrade (made in Canada). Unfortunately its impossible these days to find a better US-Made steering stabilizer,  but we're still looking!
(If you've not seen our write-up on Death Wobble, please read that first to understand better of what's going on under your Jeep when the front end begins shaking especially after your jeep hits a bump with the right front tire.)
This is one of our most popular and effective package of our best Death Wobble cure parts combined together. These parts when they are properly installed on your Dodge Ram, AT THE SAME TIME, will give you somewhere around an 90-95% chance of curing your case of Death Wobble COMPLETELY.  We've been experimenting with and learning about the root causes of Death Wobble since 2002, and have experience that VERY few other shops possess.  In fact, we are often asked for advice and help from other 4x4 shops, and auto mechanics from all over, requesting help and our proven replacement parts to solve the Death Wobble problem their customers are having, because we are the most well-known source (maybe ONLY source); so I feel very comfortable in recommending these parts together as a package, not only because of our experience in curing our customers Death Wobble problems literally hundreds of times over close to 10 years time, but because few shops know as much as we know about it.

In fact, we have also invented several products SPECIFICALLY designed to cure Death Wobble and reduce the "play" in the front end of the Dodge Ram built from 1994 to 2002 (other models available by clicking here: Dodge Death Wobble.)
Dodge Death Wobble cases fortunately are very easy to cure with the correct parts. The death wobble package contains ALL the following products together that we recommend people purchase and install TOGETHER when they are having Death Wobble problems, as discussed in our article on Death Wobble on our webpage. Also the items below are available separately if you already own one or more of these components, by searching for the part number in the search box at the upper left corner of any page.
DTP-02001-XHD Beefy Adjustable Track Bar (fits Rams with 0" - 4" of lift)
DTP-02-023-03 Steering Box Brace (tightens down steering substantially) 
BDS Dual Steering Stabilizer Kit
Death Wobble can be triggered by MANY different front end components and alignment settings, so be aware that there is STILL a small chance you may need more assistance after these components are installed.  If so, don't hesitate to give us a call, and we'll talk you though getting this problem solved for you once and for all.  I have searched long and hard to find what components work, and it's now available to you to cure YOUR problem with Death Wobble.
Don't delay your fix. Get it handled right NOW, and get your Ram back to driving safely down the highway once again.
SAFETY NOTE: Dodge has had to recall some steering components that may affect your truck, including tie rod ends. (we had a customer contact us about a snapped tie rod end on his Pitman arm, rendering his steering wheel useless). Please check your VIN here for recall info: http://recalls.mopar.com and have a professional inspection done for ALL your tie rod ends as soon as you can!