Dodge Ram Gen 4 HD Steering Linkage Upgrade for Gen 3 Trucks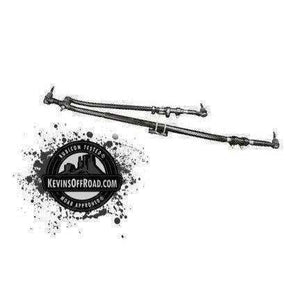 Steering Linkage upgrade to help stop Death Wobble!
This is the Mopar Gen 4 (2009-Present) Heavy-Duty Steering Linkage and will help reduce some of the causes of Death Wobble.  This steering linkage kit is the replacement upgrade for the Gen 3 trucks.  It includes Tie Rod, Drag Link, and Tie Rod Ends.  No Steering Damper or Pitman Arm is included in this kit.
This kit also fits on the Gen 2  "1999" and Newer Trucks as well, which will be a great upgrade to your existing system.  You will have to do some work to get the steering damper to fit as we do not have a kit for this as of yet.
If you do not want to shell out the added cost to run a dual stabilizer setup, a single high-quality Bilstein 5100 stabilizer is available for an additional $109.97.  This is an excellent upgrade over the original stabilizer (and MANY of the available replacements).
SAFETY NOTE: Dodge has recalled some steering components that may affect your truck, including tie rod ends. (we had a customer contact us about a snapped tie rod end on his Pitman arm, rendering his steering wheel useless). Please check your VIN here for recall info: http://recalls.mopar.com and have a professional inspection done for ALL your tie rod ends as soon as you can!
***Includes optional lock nuts needed for install.