Dodge Ram Steering Stabilizer Box Brace (2009-2013)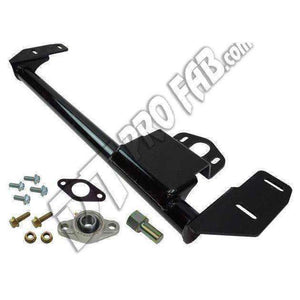 Dodge Ram Steering Stabilizer Box Brace will cure steering wander and Dodge Wobble, and help steer you straight, particularly at highway speeds.  This Dodge Ram Steering Stabilizer Box Brace helps isolate Death Wobble, and looseness in the steering box.
Dodge Ram Steering Stabilizer Box Brace upgrade to help stop

Death Wobble

or

Dodge Wobble

.
If you are experiencing a front end wobble around 45mph or so...also known as "Dodge Wobble", and you're wanting to maintain the strength and longevity of the parts you purchase for your Dodge Ram truck, this Dodge Ram Steering Stabilizer Box Brace is the best kit on the market that we know of.  Our Dodge Ram Steering Stabilizer Box Brace substantially reduces steering wander and vague road feel by COMPLETELY eliminating sector shaft play in your Dodge 2500, and 3500 recirculating ball steering gear box.  It also minimizes frame flex at the steering box mounting point, which can lead to broken steering box bolts, stranding you in the worst possible place to have no steering, per Murphy's law.  Additionally, it adds a large bolster of strength against impacts that commonly occur off and on road, making steering "Yaw" a thing of the past.  You haven't felt steering this tight since the truck was new!!
We have vehicle-specific versions available for Generation 2, Generation 3, and Generation 4 model Dodge Rams.
Each steering box brace comes complete, ready for an easy install:
Thick powdercoat finish to resist corrosion and maintain structural integrity for years to follow.
Large ride bearing to stabilize the gear box and substantially tighten up your loose steering.
Mounting bolts with washers for mounting simple and easy installation instruction booklet.
Proudly made in the USA...This ain't no import garbage!!
Almost always in stock, ready to ship.
If you're having trouble with Death Wobble / Dodge Wobble on your Dodge Ram, check out our article we wrote about How To Fix Dodge Wobble
SAFETY NOTE: Dodge has recalled some steering components that may affect your truck, including tie rod ends. (we had a customer contact us about a snapped tie rod end on his Pitman arm, rendering his steering wheel useless). Please check your VIN here for recall info: http://recalls.mopar.com and have a professional inspection done for ALL your tie rod ends as soon as you can!