Dodge Ram 1500 2500 DTP-0-2101-XHD Track Bar Upgrade Kit: '94-'02 models w/ 4.5" - 6" LIFT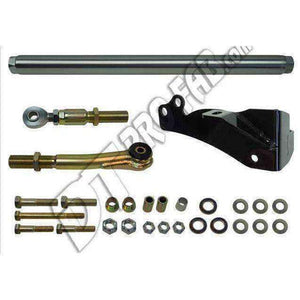 94-'02 Dodge 2500 Track Bar Upgrade Kit: '94-'02 models w/ 4.5″ – 6″ LIFT
 Track Bar Upgrade to help stop Death Wobble!
If you are concerned about Death Wobble, and the strength and longevity of the parts you purchase for your Dodge truck, this is the best kit on the market that I know of!  Originally Designed in 1996 as a replacement Track Bar Kit for the early Dodge Ram 4x4, they've been designing kits ever since then, fitting  all 1994-2002 Ram 4x4 1500, 2500, & 3500 dodge truck models, from 4.5 to 6 inches of lift & some larger.  The track bar is fully adjustable and rebuildable, utilizing a high strength Chromolloy spherical rod end & replaceable urethane bushing sets.  The kit comes with a top-Shelf quality drop bracket mount, and includes necessary hardware for installation.
FOR 4.5" - 6" OF LIFT
Adjustable, so as to accommodate lifts of multiple heights.
Rebuild kits available for serviceable parts.
Extremely Heavy-Duty Track Bar Mounting Drop Bracket.
Chromlloy 4130 Thick-Wall DOM Tubing 7/8" Chromolloy Rod End on frame side.
Zinc Plated to impede corrosion.
PLEASE NOTE: DUE TO THE ADDITIONAL OUTSIDE DIAMETER / THICKNESS OF OUR TRACK BAR, AND THE INCREASED THICKNESS OF THE MAG HY-TEC DIFF COVERS, THE TWO WILL NOT WORK TOGETHER, UNFORTUNATELY.
SAFETY NOTE: Dodge has recalled some steering components that may affect your truck, including tie rod ends. (we had a customer contact us about a snapped tie rod end on his Pitman arm, rendering his steering wheel useless). Please check your VIN here for recall info: http://recalls.mopar.com and have a professional inspection done for ALL your tie rod ends as soon as you can!