Hard-KOR Upgraded Tie Rod (w/ jamb nuts): 6cyl ZJ, XJ, TJ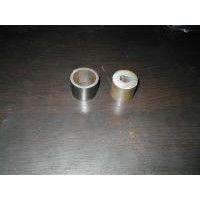 How many times have you bent your ZJ, XJ, or TJ's stock tie rod or drag link?  Does it look more like the horizon of the Moon than the plains of Kansas?  Well, we've come up with yet another creative solution for you, with parts you simply can't find anywhere else.  How does a 1.25" chrome-alloy steel DOM tube with 3/8" sidewall sound to you?  You know how thick a pencil is, right?  The sidewall on this tie rod is about 50% thicker wall than a pencil...!!  This thing is EXTREMELY resilient to bending!!  Already pre-tapped to work with your factory  LH/RH tie rod ends, and includes powdercoating and jamb nuts.  A completely bolt-in deal for TJ, XJ, and ZJ owners...just re-use your stock tie rod ends and use the jamb nuts that comes in the package...simple, easy, done deal, and LOT thicker than the stock crap.
I love it! You did a great job !! anyway I drove to Jemez Springs, New Mexico last week and this is a pic. You can add it to your collection if you wish…
- Danny Trujillo
In each photo, compare the thickness of the factory tie rod segment on the left and the Hard-KOR tie rod segment on the right.
Note: This product will ONLY fit the 6cyl version of the Grand Cherokee ZJ.  The V8 model has a different setup, and this tie rod will NOT fit it.
Install Instructions HERE