JL Jeep Wrangler 3" Premium Series Lift Kit w/ Bilstein 5125 Shocks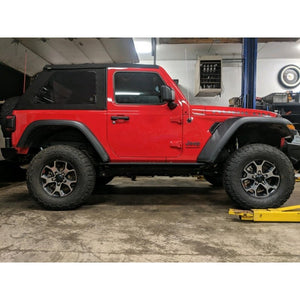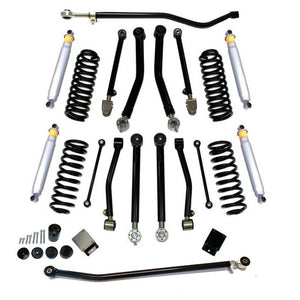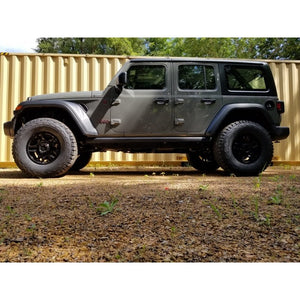 For JL Jeep Wrangler model year 2018+
"
We set the bar very high with the design of this kit. It had to be worthy of the Premium moniker we tagged it with! It also had to perform perfectly on the highway before and after taking a beating on difficult and punishing terrain. This truly is the ultimate "Mid Arm" package with all the best components put together in kit form."
How many times have you needed another inch or two of ground clearance or tire clearance to make it over an obstacle that your buddies are rolling right over? Clearance is a huge part of getting to where you want to go. It makes sense right? Tires pushing on any surface will take you farther than when you are scraping your underbelly and trying to drag your Jeep to the end of the trail.
This Premium Series 3" lift kit gives you the clearance that your Jeep is lacking so you can out maneuver your buddies who have differential lockers. Even without lockers, this new suspension under your rig will take you to thrilling new levels of crawling capability. Being able to fit larger tires is a huge benefit of adding this suspension! Larger tires give you the advantage over obstacles that towered over your stock size tires. They also work with the suspension in improving your overall ground clearance and your break-over angle. No more high-centering! 
You have all the adjustment you need built into this kit. The track bars and all 8 control arms are all fully adjustable to work with your specific set up. This is perfect for anyone who doesn't know the future of their project vehicle and needs to have to ability to make changes. Maybe you want to build custom axles for your rig with mounts that are not exactly where the factory put them. You will have the ability to dial your suspension in to match up!! Or maybe you just decide to go taller in the future...you can compensate by making some minor adjustments. You don't have to buy all new parts!
Go, proceed with confidence where doubt held you back in the past. Every part in this kit is designed to withstand a beating, so you can hit the trails hard, but still drive it home without worry. This next step in outfitting your rig can be your last! 
Front and rear 3" lift coil springs
Bilstein 5125 Shock absorbers
Extended length HD rear sway bar links
Front adjustable bumpstop extensions
Rear 2" bumpstop extensions
Heavy Duty front adjustable track bar
Heavy Duty rear adjustable track bar
Heavy Duty front adjustable lower control arms
Heavy Duty front adjustable upper control arms
Heavy Duty rear adjustable lower control arms
Heavy Duty rear adjustable upper control arms
All required hardware 
Installation Instructions
Improved ground clearance
Factory like ride quality
Fits larger tires 
Simple installation
Incredible value
Very upgradable in the future
Lifetime Warranty
Note: Rubicon models are 1in taller from the factory.  This kit will net 2in of lift on Rubicon models.