JK Wrangler Hop-Stopper Hood Retainer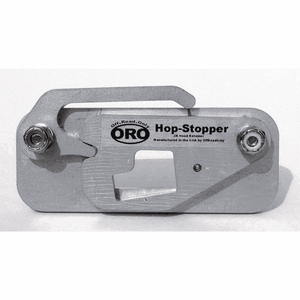 We are pleased to announce the release of the Hop-Stopper for Jeep Wrangler JK 2007-14 models.

This device will retain the hood hook when the hood is in the closed position, preventing any vertical movement. It makes up the gap between the bottom of the steel grill shell and the tip of the hood hook. Once the lever is pushed into the lock position, the hood can not hop, flutter or move anywhere. Pull the lever to unlock and the hood opens and closes easily.
Manufactured from all stainless steel materials with zinc coated hardware for corrosion resistance.
Works with stock or aftermarket hoods, provided the stock hood hook is used.
The Hop-Stopper mounts below the steel grill shell, using two 1/4" holes on either side of the
hood hook opening. These two holes need to be drilled thru the lower layer of the tubing, there is
a fixture included for proper positioning of these holes.
The only requirement for proper operation is that you can reach thru the middle slot of the grille
to actuate the latch when the hood is closed. Using the Hop-Stopper with any kind of styled
inserts may require an access hole thru the insert. Works with all stock and aftermarket hoods.
Typical installation is 30 minutes or less.