JKS 2001 Sway Bar Disconnects for TJ XJ ZJ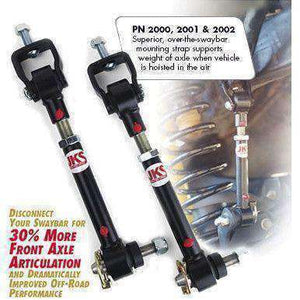 Fits the following vehicles:
TJ Wrangler 2.5" to 6.0" lift
ZJ Grand Cherokee 4.5" to 6.0" of lift
XJ CherokeeMJ Comanche 4.5" to 6.0" of lift
For ZJ/XJ/MJ models with 0" to 1.5" lift, click here, or for 2.0" to 4" click here
For TJ Wrangler models with 0" to 2" of lift, click here
The unique design of JKS Quicker Disconnects enables the user to quickly and easily fine tune the length to compensate for vehicle changes, such as: spring settling or sagging, minor lift changes, heavy accessories, vehicle trim or rake adjustments, and other factors that affect ride height.
JKS Quicker Disconnects are also the easiest to operate, due in part to tapered stainless steel mounting posts and floating, spherical polyurethane bushings. With the lengths adjusted properly for the vehicle, the user can even operate our Quicker Disconnects when parked on uneven surfaces.
Removing the convenient click-pins allow the disconnects to slide easily from their mounting posts for safe stowage inside the vehicle, or to be secured to the vehicle with the swaybar, depending on the application.
Manufactured from premium heavy-gauge steel, JKS Quicker Disconnects are robotically MIG welded for superior quality standards. Zinc plating and a durable powdercoat finish provide unsurpassed protection from corrosion and the elements.
Grease zerks provide easy lubrication, and ensure proper flow of grease to adjustment threads and bushings. The bushings themselves are injection molded Dura-Thane pieces exclusively designed for JKS to maximize grease distribution and allow full rotation under loads.