JKS-924 Steering Stabilizer Tie Rod Clamp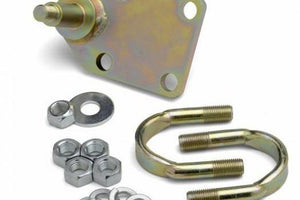 JK Steering Stabilizer Tie Rod Clamp
Heavy-duty bracket precisely positions steering stabilizer mounting point on tie rod.
High-torque U-bolt straps greatly increase grip on tie rod, and robust stabilizer mounting stud accepts any 5/8 in. ID bushing.
Multiple mounting configurations ensure maximum versatility and eliminates binding of stabilizer shaft caused by misaligned mounting points.
Low-profile design easily clears aftermarket and oversized differential covers.
Easy bolt-on solution to leading cause of premature steering damper failure.