JKS 2550 Adjustable Coil Over Spacer ACOS: LJ / TJ Wrangler Rear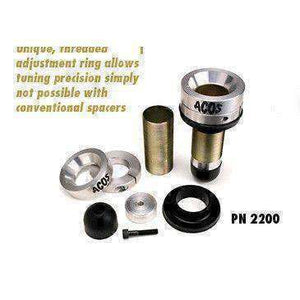 Adjusting ride height on coil sprung Jeeps® is fast, convenient and easy with Adjustable Coil Over Spacers from JKS. Whether adding clearance for larger tires, compensating for heavy accessories, or trimming an unlevel vehicle, these extraordinary spacers provide convenient control of ride height without removing any suspension components!
JKS Adjustable Coil Over Spacers feature billet aluminum construction, providing an appearance as impressive as their function. The threaded design accommodates changes to your vehicle with a level of precision impossible with ordinary poly spacers. Heavy duty adjustment rings are easy to operate with the suspension unloaded, using only an allen wrench to lock and unlock.
Mounted to the OE spring retainers, the Adjustable Coil Over Spacer functions as the upper spring seat using a new Dura-Thane isolator pad to dampen road noise. Installation automatically raises your Jeep at least one full inch for immediate clearance benefits. Ride height can be increased even more by rotating the billet aluminum adjustment ring. See below for the exact range of adjustment for your vehicle.