License Plate Relocation bracket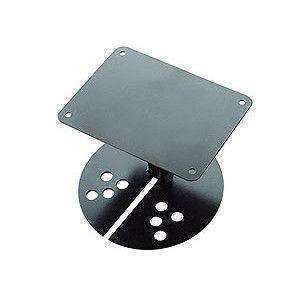 This license plate mount is designed to position the LiteDOT Plate Light/3rd brake light in the center of the spare tire.
The bracket has bolt patterns that match most every mounting pattern out there. Simply remove the spare tire, mount the tire carrier side of the bracket over the studs for the spare, and reinstall the spare tire. The 1/2" receiver tube sticks out of the center of the spare tire.
After assembling the license plate, LiteDOT Plate Light and the outer part of the bracket, simply slide it into the receiver. To prevent theft, the outer half can be padlocked to the inner half of the bracket. Tighten the thumbscrew to eliminate any vibrations and plug in the LiteDOT Plate Light harness connector to complete the installation.
NOTE: Works best with the LiteDOT Plate Light with the disconnectable harness.