Moog Problem Solver 99-04 WJ Grand Cherokee Front Inner Tie Rod - (Pitman Arm)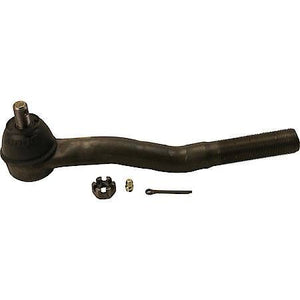 Connecting the Driver to the Vehicle
Tie rods are a crucial part of your steering system. When you turn your steering wheel the motion travels through the steering rack, through the tie rods, and finally through your steering arm or spindle. Without tie rods, you wouldn't be able to turn your car. This part is also incredibly important to your vehicle's alignment. If you replace your tie rods, make sure to get an alignment done immediately afterward.
Designed for Strength, Durability, and Longevity
Moog tie rods feature several differences from the OE. One of the more obvious differences is the overall design itself. Whereas many OE tie rods are two-piece assemblies, Moog's tie rods are forged one-piece units. This one-piece design reduces the chance of early wear, increasing the durability of the part as a whole. To protect your tie rod, Moog uses a neoprene-sealed rubber dust boot. This dust boot is resistant to both extreme temperatures and abrasion. The design for this rubber boot includes a small valve to allow for the flushing of old grease and contaminants. In addition to all these other features, Moog crafts their tie rod end using hardened full-ball metal studs. These hardened studs can stand up to much more than the OE, making the tie rod that much more dependable.
Front Inner Tie Rod End - At Pitman Arm Moog ES3475 fits these vehicles:

WARRANTY:
Moog Premium Steering Components carry a Limited Lifetime Warranty. Moog R-Series Control Arms, Hub Assemblies, and Strut Assemblies carry a 3 Year Warranty.
Moog warranties their parts to be free of defects in materials and/or workmanship during these timeframes as measured from the date of purchase.
If a Moog part should fail due to materials or manufacturing defect while under warranty, we will provide a replacement of the part upon return of the defective part.