Moog Problem Solver Jeep WJ 99-04 Grand Cherokee JK 07-18 Wrangler Front Lower Ball Joint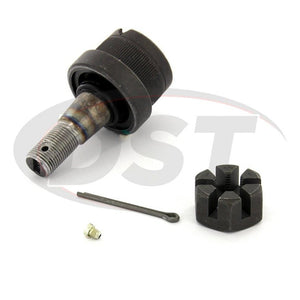 Moog Problem Solver Ball Joints
OE Design Flaws
If you're hearing a clunking noise from the front of your Jeep JK or Grand Cherokee then you probably have a loose ball joint. Steering wander and a shimmy in the steering wheel can also be signs of a bad ball joint. Lower ball joints take a lot of punishment and will wear out eventually, but the original ball joints on these Jeeps come up short in a few areas and don't last as long as some other options. Some of these problems are with the design of the ball joint, but there are some external forces that can contribute to premature ball joint wear and failure. Here are some of the factors that can lead to premature ball joint wear:
Non-Greasable Design
Plastic Liner in the Stud
Vulnerable Dust Boot
Lift Kits
Bigger Tires
Off-Road Use
Moog's Solution for Ball Joint Failure
Moog Problem Solver Ball Joints are an OE replacement that basically takes the OE design, improves it, and adds some premium upgrades. This means that a stock Jeep JK running these ball joints will very likely outlast the OE parts, and will be covered by a Limited Lifetime Warranty. In fact, the techs at Moog have said that running a 2" lift and 35" tires should not be a problem for these ball joints, but their lifetime warranty is only valid for stock suspension setups. Here are some of the benefits of the Moog K3185 lower ball joint over the original:
Full ball hardened Metal Stud
Greaseable Design allows for grease maintenance
Integral Dust Boot sits lower and is less likely to be damaged
Moog Ball Joints provide long-lasting dependability and performance. Moog ball joints are made with a hardened steel stud ball. These have a full 360-degree range of movement, allowing for consistent stud articulation throughout the life of the part. Grease grooves allow full lubrication between the housing and the ball stud for extended life.
Ball joints are a pivotal part of your vehicle's suspension, so go with the best replacement with Moog's Ball Joints. A ball joint allows your wheels to rotate when you turn the steering wheel. If your ball joint has failed or is failing, your vehicle's ability to turn is severely hindered. Moog's Ball Joints use innovated designs to maximize the performance and durability of your suspension.
Warranty
Not only do MOOG ball joints provide durability, they also provide peace of mind. Moog ball joints are covered by a Lifetime Warranty.
Fitment for moog-k3185