ORO SwayLOC Combo Jeep Wrangler JK, front AND rear manual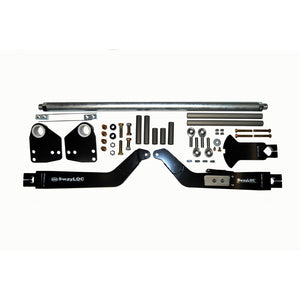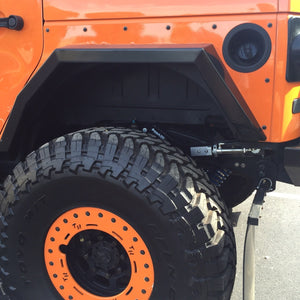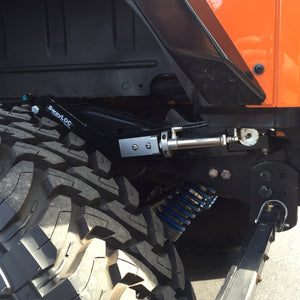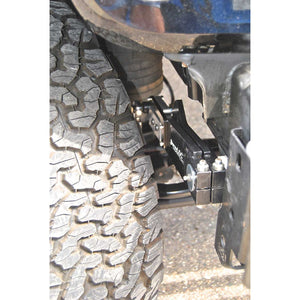 This item is  for both a Front manual Swayloc AND a rear manual Swayloc for Wrangler JK.
SwayLOC is the original dual-rate sway bar that provides different control rates for off-road and on-road use.
SwayLOC improves balance and control while providing full articulation during off-road use. It also delivers near OEM ride quality during on-road use that is more firm than the stock sway bar.
The dual rates are achieved through the use of two concentric torsion bars. SwayLOC uses a simple latching mechanism to easily change between off-road and on-road use without having to struggle with disconnect links or having to be on level ground. The proven cam latching system guarantees that SwayLOC engages in the correct position for on-road use and disengages for off-road use when chassis flex releases pressure on the latch.
The Manual "Flip a Lever" version is simply that, flip the lever on the latch rearward sets the latch to disengage for low off-road resistance. Flipping it forward sets it to engage for high on-road resistance. The spring in xthe latch allows you to select the operation by flipping the lever and the spring will pull the latch open or slide engaged when it should.
The rear kit comes with mounting brackets which mount to the side of the frame encompassing the 2 mounting bolts for the rear bumper side mounting bracket. There is some drilling required to add the remaining hardware to mount. The torsion bars are positioned above the frame rail, in the void space between the jack storage compartment and the rear tool box/sub-woofer compartment. The arms come forward and linkage attaches to the same tab on the rear axle as the stock rear sway bar.
The front kit comes with aluminum brackets to mount SwayLOC in the stock sway bar location.
Some aftermarket bumpers or skid plates might require modifications to allow clearance for SwayLOC.
A multi-piece linkage kit is included to create a variety of linkage lengths to fit most lift heights from stock to over 10″.
If your Jeep is heavy, or have a rack on the roof, this will help drastically in controlling the body roll of the JK.
Notes…
1. JK's with aftermarket rear bumpers that have mounting plates which use the same 2 mounting bolts on the side of the frame may need to be modified.
2. JK's with Rubicon Express or other manufacturers aftermarket front track bar relocation brackets might interfere with the driver side SwayLOC arm, however the current version usually clears
3. Rear SwayLOC requires 4.5″ min backspacing or less