ORO SwayLOC latch conversion to remote control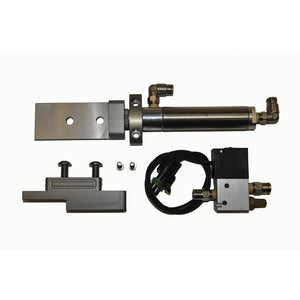 This kit will contain all the parts necessary to convert a manual SwayLOC to a Remote Controlled version.
The kit contains the air cylinder and all the mounting, hardware and components to install on any generation of our SwayLOC. There is a 1/4″ NPT pipe fitting to plug into your air source and the kit includes all the plumbing and wiring from there to complete the install.
Air supply requirement> The air supply pressure should be at minimum 50 PSI and maximum 125 PSI. Very little volume is required to move the air cylinder. A small ARB compressor will easily perform the duties necessary to operate this system.
Note: This system utilizes air pressure to extend the air cylinder and disconnect the latch. Removing the pressure (by turning off the switch) allows a spring to return the air cylinder and latch back to the latched position. When you flip the switch to pressurize the latch, the pressure will be constant as long as you want the SwayLOC to operate in that mode.
Included but not shown in the image is 15ft of 1/4″ nylon air line and a 1/4″ npt fitting to plumb into your air supply system.