Superlift 3 inch Lift Kit - Toyota Tundra 2007-2018 (2WD & 4WD)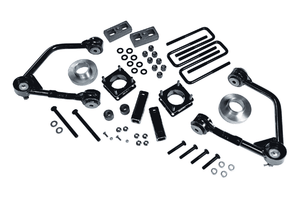 Have a 2007-2018 Toyota Tundra?

Check out this killer 3" Lift Kit by SuperLift - the Offroad Expert.
Superlift's Upper Control Arm (UCA) Lift Kits have a strong, modern, to die form design constructed of solid steel rod, beefy gussets and include a flat mount ball joint cup. Superlift Suspension intentionally over-builds the suspension kits to be the best. The uniquely engineered design adds strength and durability and has bonus features that others don't offer.
Superlift's Tundra UCA kit includes pre-installed MOOG ball joints and bushings for long lasting performance. By using the new upper control arm arms, this lift kit offers a better ride quality and performance over traditional torsion key leveling kits.
This
Part No: K1011 Lift Kit
also includes front shock spacers and a rear block kit. All required parts are included to make sure your Tundra handles and performs just like a stock truck!
3 inch Lift Kit Features:
A simple and Super-EZ bolt-on installation
UCA's include pre-installed MOOG® ball joints and bushings
CNC machined ball joint socket and bushing eye ring for precise fit.
UCA's include pre-installed MOOG® ball joints and bushings
Differential spacers maintain proper CV axle angles
Rear lift is achieved with Block & U-bolt Kit
Adds clearance for up to 34" tires
Fits 2WD and 4WD
Backed by our Limited Lifetime Warranty
Benefits of SuperLift Lift Kit:
UCA Kits are assembled with MOOG® ball joints that provide great durability & articulation; and the serviceable design enables lubrication for longer life.
UCA Kits are assembled with MOOG® control arm bushings to maintain OE ride performance and durability.
Retains OEM caster and camber alignment specifications
Truck can be returned back to stock with no issues
No excessive ball joint or steering components
Important Technical Notes:
Does not fit Tundra Models – TRD Pro, Rock Warrior, Or XSP-X Models

Will NOT work on 2016 TRD Pro (Bilstein Piggyback Strut) Models

Some minor trimming may be required in order to clear tires larger than 34"

Do Not combine with any other suspension lift

Differential drop components will not be required on 2WD models
At Kevin's Offroad, we always try to go beyond the norm for our customers. In keeping with that, check out this really cool MOOG® ball joints Installation Tip video shot by the Garage Gurus.