TJ Wrangler RHD Double Shear Adjustable Track Bar (Right Hand Drive)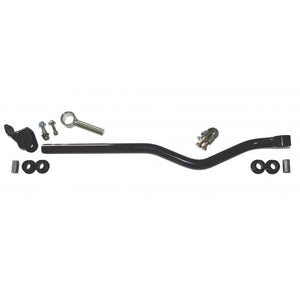 IRO's adjustable double shear track bar is available for any lift height from 0" to 8". This track bar has been carefully designed so that it will not limit suspension articulation. Very heavy duty 1.25" diameter solid steel, most other aftermarket track bars are made from hollow tubing that can be bent by off road use. This track bar will keep your steering tight and responsive and will not contribute to "death wobble" like lighter duty track bars. 

The new polyurethane bushing end at the uniframe side will allow as much suspension travel as your control arms or shocks will allow with no restriction like a ball joint style tie rod end.

Heavy Duty Adjustable RIGHT HAND DRIVE Double Shear Track Bar

Heavy Duty RIGHT HAND DRIVE Track Bar Mounting Bracket

All necessary hardware
Fitment Note: If using with factory steering, you may experience contact between track bar and tie rod.  In this event, you have 2 options: 1 - Introduce a 5 degree bend to the drag link (see photo below) or 2 - upgrade to the over the knuckle steering