WJ Steering Equalizer Plus Drop Pitman Arm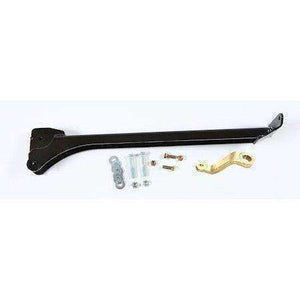 Do you have a tall lifted WJ? Are you battling to keep your Jeep in between the lines and always looking out for the dreaded death wobble? We have a product that will smooth out your ride and set you at ease in the driver's seat.
The Problem:
The steering and track bar angles on your WJ stay nearly parallel even with a super tall lift. However, the factory never intended the steep angles you see on your lifted Jeep. The result in some cases is a Jeep that handles poorly and is prone to death wobble even with tight bushings, new steering components and a good alignment. With the stock configuration on the drag link and track bar, a tall lifted WJ has a higher potential to have adverse driving characteristics than other Jeep vehicles we have seen.
The Solution:
IRO has come up with an innovative solution to this issue with our Steering Equalizer kit. Included in the kit are 2 important elements that will help your WJ track better, wobble less, and make you feel confident driving it.
Track bar drop subframe: This bolt in unit drops your track bar a whopping 3 inches on the frame side compared to stock. Not only does it drop the track bar, but also it runs under the oil pan to the other side of the uniframe. This adds a great deal of support and rigidity to the entire set-up.
Constructed with laser cut and CNC formed 1/4" steel, this thing is not going anywhere.
2.5" Drop Pitman Arm: This is the tallest drop pitman arm available for WJ's! It is the perfect compliment to the track bar drop subframe.
This kit was originally developed for our ULTIMATE WJ/JK axle swap kit so it was a simple transition to tall lifted WJ applications. You must have 4" or more lift to run this kit.