JKS Jeep Wrangler TJ Bar Pin Eliminator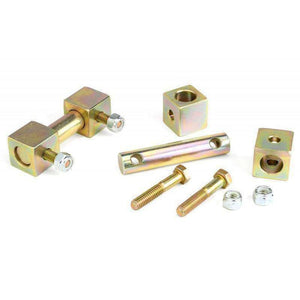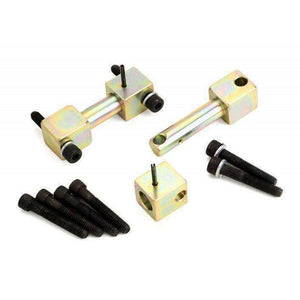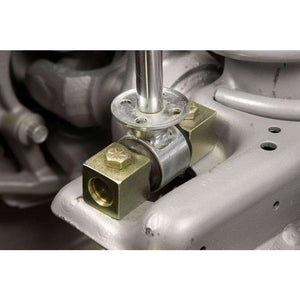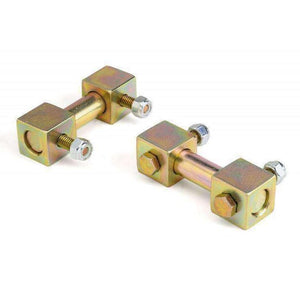 *Many JKS parts are currently delayed up to 3 months on new orders. Please verify availability with any vendor advertising shorter lead times prior to order*
Jeep Wrangler TJ Bar Pin Eliminator (FREE FREIGHT TO LOWER 48!)
Get JKS Front Lower Bar Pin Eliminator or Rear Upper Bar Pin Eliminator. Fits Wrangler TJ 1997-2006 jeeps. Unlike other manufacturers, the JKS gives lateral support of the shock absorber bushings. Excessive movements between the parts usually cause the bushings to distort, but instead here the impacts are deflected to the shock absorber. The bushings will not lose their integrity sooner and you will definitely not be annoyed by the thumping or rattling noises.
Order the Front Lower Bar Pin Eliminator or Rear Upper Bar Pin Eliminator separately or Both together.
Features of the JKS Bar Pin Eliminator
Heavy duty replacement for bar pin style shock mount prevents transfer of noise and vibration caused by bushing movement
Preloads shock absorber bushing to proper specifications for better performance and longevity
Bushing surfaces machined smooth for reduced friction and wear
Retains original mounting alignment to prevent stress on shock absorber and bushing
Provides almost 1/2 in. additional down travel at shock absorber
Zinc plated, premium grade steel components for corrosion resistance
Technical notes for the Wrangler TJ Bar Pin Eliminator
Not compatible with Old Man Emu shock absorbers.
Compatible with OE and aftermarket shock absorbers
What comes with the JKS Jeep Wrangler Bar Pin Eliminator
Bar Pin Eliminator
Front Lower or Rear Upper or Both (depends on your order request)
Heavy duty replacement for OE bar pin shock mount
Attaches directly to factory shock mount
Reduces static length of shock absorber 0.40 inches
Solid steel construction
Zinc plated
Bolt-on
Pair
Learn more about shock absorbers from Kevin's Offroad Jeep Expert - Kevin.