WJ Jeep Grand Cherokee Platform Roof Rack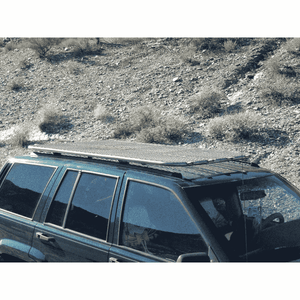 On Sale thru 11/1/23. All savings reflected in cart price. Not eligible for additional discounts.
Jeep Grand Cherokee WJ Platform Roof Rack fits '99 to '04 WJ
Please note: Each rack is hand built in Phoenix, AZ and current estimated wait time for new roof rack orders is about 2 weeks from date of order. We have freed up our fab shop, and lead times are back down to a respectable level.
Free local pickup or delivery in Phoenix, AZ Metro area. All other shipments must be quoted prior to finalizing your order. Freight shipments for the racks can run from a minimum of $230 to upwards of $500 depending on your location (the more remote or congested the area, the higher the cost. We can also ship COD (for the shipping fees only)  if you choose, if you have your own freight account, or if you wish to do a specialized delivery option. 
If you're considering a Roof Rack for your Jeep Grand Cherokee WJ to mount a Roof Top Tent (RTT) or a sleeping / spotting / utility platform to...but are concerned about the increased height that a typical roof rack requires, we have just the solution for you: Our new Hard-KOR Jeep Grand Cherokee WJ Platform Roof Rack gives you a flat platform that mounts securely to your factory roof rails, and adds only 1.5 inches of increased height, allowing you to park in your garage, or in parking structures, with no problem at all.
Dimensions are approximately 73" x 43" x 1.5" at it's tallest and widest
Here's some of the many benefits to the Hard-KOR Platform Roof Rack:
Toss some Rubbermaid containers on top, and lash them down with straps and a webbed cargo net for long road trips with the family.
Toss your oversized spare tire on the roof, and get it out of the cargo area with the INCLUDED tire mounting plate and hardware.
Mount your roof-top tent (RTT) easily to the Roof Rack Platform, which allows it to be removed more easily than the permanent roof mounts.
Or, for a low-buck RTT option, pitch your current tent on top of the platform, keeping you off the ground, and away from critters.
Rack comes complete with 4 light tabs on the front, as well as two tabs in the rear for mounting lights or antennas.
The entire Roof Rack Platform can be easily removed with 8 nuts, leaving the rail mounts in place, for easy mounting and storage.
Note: Due to its size, it can't be shipped UPS or FedEx Ground, Truck Freight is the only option, unless you come to Phoenix, Arizona. 
INTERNATIONAL FREIGHT SHIPMENTS: Please e-mail us for special instructions!! The above DOES NOT APPLY to International Shipments, only 48-State Domestic.