KOR-1179-KIT Super-Hard Shore Durometer Track Bar Bushings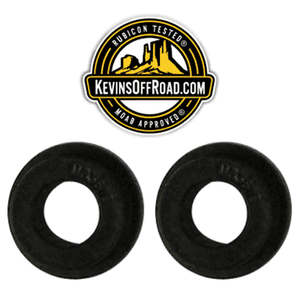 HARD-KOR SUPER HARD SHORE DUROMETER (75D) TRACK BAR BUSHINGS UPGRADE (1/2 KIT - Axle side only) FITS JKS-125, 126, 128, 129 

KOR-1179 Bushing upgrade kit for axle side only (Fits bars such as JKS-125, 126, 128, and 129)

Due to the problem we were having with Death Wobble, we did some experimentation with stiffer aftermarket track bar bushings, and found we were able to cure the Death Wobble on our test rig after they were installed.  Armed with this knowledge, Kevin found a polyurethane molding company who was willing to build a mold and pour us the hardest track bar bushings that exist...at least 25% stiffer than the STIFFEST ones that we had the early success with...which will work in track bars built by Jeep/Mopar/Dodge, as well as MANY different aftermarket track bar manufacturers, so long as that bar has the "standard aftermarket track bar end-loop size", which measures 1-1/2" Inside Diameter. Measure your bar to see if it will work...it fits many different aftermarket bars, as well as our Track Bar Conversion, and MAY OR MAY NOT fit imported OE "equivalent" track bars from AutoZone and so on.  This is perhaps the least expensive way to tighten up your steering system, removing slop, and perhaps even cure Death Wobble at the same time!
The result has been superior.  We have been able to cure our customer's Death Wobble in most all cases with our SuperDurometer bushings, a new Hard-KOR steering stabilizer, and a proper alignment.
This Kit Includes:
(2) Hard-KOR Super-Hard Shore Durometer (75d) Bushing halves (one pair)
**This kit only includes two bushing halves, which will only service one end of a track bar. This is suitable for the track bars that have rubber or poly bushings on one end, and a johnny joint or flex joint on the other. If you do not currently have poly bushings in your track bar, you MUST purchase the 9906-HW kit to install these bushings or you will not have the proper bushing sleeve. For replacing bushings on both ends of the track bar, please click here
All products in this Death Wobble Cure package are proudly American-Made!
**Conventional petroleum-based lubricant or grease must NOT be used to lube or install poly bushings. These products will break down the polyurethane prematurely causing bushing failure. Please use only Synthetic Silicone/Teflon lubricant, such as our KOR-1109 lube (included with this kit) or a similar product from a poly bushing manufacturer.**
**Please note: These bushings are NOT compatible with the factory track bar on 2008+ Dodge trucks, due to a change in the bushing size.**
**A note about retrofitting your ORGS, JKS, or other aftermarket track bar with our Super-Durometer bushings mentioned above: Many factory and aftermarket track bars come with rubber press-fit cartridge-style bushings installed, rather than the easily-replaceable method of using two poly bushing halves, inserted from each side of the end loop, and then sliding the included steel sleeve inside the bushings.  If you have the rubber-cartridge style bushings, then you cannot use the Super-Durometer 75D bushings without first removing that rubber cartridge bushing completely from your bar.  If you have one of these bars, then please order up the 9906-HW kit as well, which includes the thick steel sleeves.