Radiator Support for 1993-1998 ZJ Grand Cherokee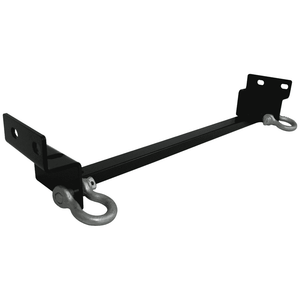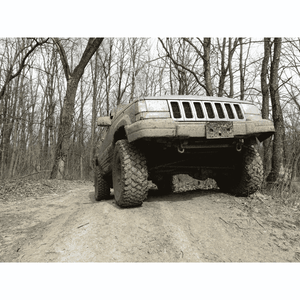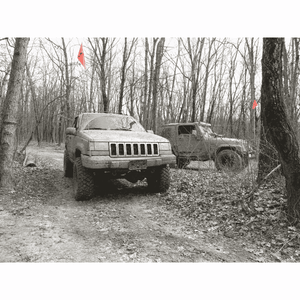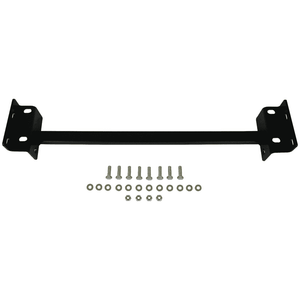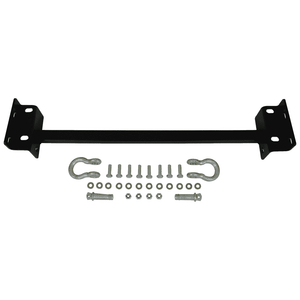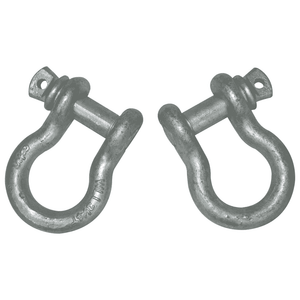 Radiator Support for 1993-1998 ZJ Grand Cherokee
Are you missing factory tow hooks or looking to free up some ground clearance and approach angle? 
Have you hit your cheap factory radiator support one too many times and dented it? 
How does two additional inches of ground clearance under the radiator sound to you? 
We've designed a replacement radiator support that tucks up out of harm's way and will allow trimming of the front bumper to gain back massive amounts of approach angle (typically 10°~15°) and keeps your radiator from getting damaged at the same time! 
Most importantly, the kit also includes snatch points, which alone would cost you around $100 + shipping if your Jeep didn't come from the UpCountry Package from the factory.
There are other aftermarket tow hook manufacturers selling factory-style tow points for $100 that are not NEAR as strong as our 1/4" thick redundant bracing (pulls off both frame rails at the same time, rather than putting all the forces on one hook separately). 
To the best of my knowledge, this is the beefiest ZJ tow point (and ONLY fortified radiator support) on the market.  We don't have the ability to test the weight rating, but we've had customers report breaking 5,000lb rated tow straps in half while using it.  (Factory dry weight of your Grand Cherokee is less than 4,000lbs., for a reference point)
Support comes powdercoated black. 
"Here's a posting on our forum that I put up last night mentioning the incident I spoke to you on the phone about and how your radiator support saved the front of my ZJ.    Some one posted a few pics of the ordeal. Maybe you can post these on your site. I'll try to get a close up of the mount. It's not even scratched."  -John R., Worcester, MA
This kit includes hardware and everything you need to add shackles ( 5/8" body, 3/4" pin) to the front of your Jeep. It's about a 1-2 hour job, comes with all the (Grade 8) hardware you need and requires a 17mm socket with extension. 
On a difficulty scale from 1-10, this is a 3.  Trimming the lower portion of the bumper is not required in order to use the snatch points, but you will have to notch the bumper out so that you can GET to the shackles. 
Stock fog lights on the '96+ models can be retained in the bumper if you desire.  
Protect your radiator, free up some ground clearance, and add snatch points today, before you need them!! 
Safety First: You need to know how to extricate stuck vehicles before attempting it.  Warn did a great write-up on safe winching techniques HERE
Special footnote: this product is designed to fit on ZJs with stock bumpers, but it can be modified to fit in conjunction with ARB front bumpers as well as other aftermarket bumpers.  Click HERE to find out more.
"Kevin - I bought your ZJ Radiator Support/Tow Point back in the beginning of August and hadn't gotten to use it until this past weekend. I was impressed when I got it in the first place because of the beef construction. I knew it would definitely protect my radiator a lot better then the stock tin radiator support.  Well this past weekend I got in a rather deep water hole and had to be winched out. First my friends XJ tugged me a little bit, but I didn't budge much so we hook up a 9000lbs winch attached to a friend's TJ. That worked a bit better but still not much luck so we hooked up a snatch block and pulled around 12000lbs and we were able to winch my ZJ right out of the hole.  Your radiator support handled the pull like it was nothing. I'm very happy I bought it for my Jeep. Whenever anyone asks about front tow points for a ZJ I will be telling them about your great product. I've attached a picture of the radiator support in action. You're more then welcome to use my pic and e-mail on the radiator support page.  If it wasn't for that support I'm not sure how I would have got my ZJ out of that hole." ~Anthony H., Ontario, CAN~
Make sure to order up some 6500lb (3/4" pin) shackles to complete the package.