Jeep Grand Cherokee WJ 1999-2004 Transfer Case Skid Plate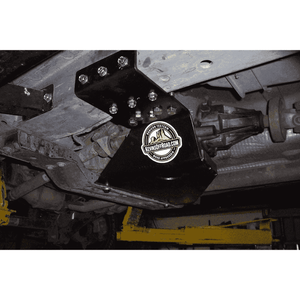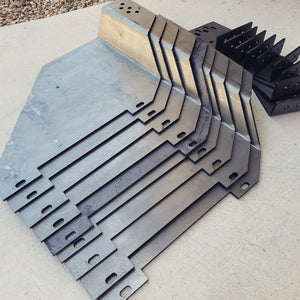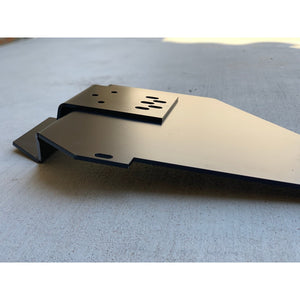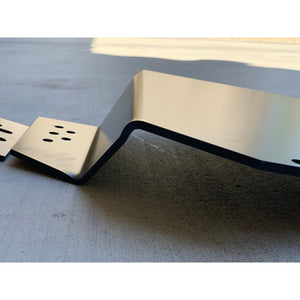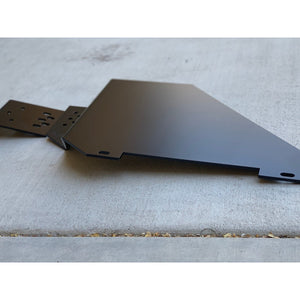 Hard-KOR WJ Transfer Case Skid Plate
Made in Phoenix, AZ
Have you ever looked under your WJ's skid plate and noticed the shiny transfer case bulge hanging down?  Ever wondered why it was shiny where the rest of the Jeep was black?  The reason it because it's aluminum.  And, it's not only extremely brittle because it's CAST aluminum, it's also very thin.  In my younger days, I once poked a hole in a transfer case (extremely easily) with a hammer and a flat-blade screwdriver, in a failed attempt to get the tailshaft housing off, so that I could replace a leaking seal.  I had NO IDEA how brittle and thin these cases truly were, until the point where I had oil pouring down the shaft of the screwdriver, draining the transfer case oil all over my arm, and the driveway, both.
 Can you understand how easy it is for a rock to puncture the transfer case with the weight of the Jeep pressing down on it?
 We have designed a one-quarter-inch thick STEEL PLATE skid plate, designed to save as much ground clearance as possible, while protecting your fragile cast aluminum transfer case from sharp rocks, rendering you broken on the trail, and somewhere around a thousand-bucks lighter after you factor in the cost of a new case, tow charges and your lost time.
Our design incorporates a triangulated vector system (which distributes the forces of the Jeep coming down on rocks) over a much greater area, effectively reducing crushing stress-points in any one area.  It's easy to install, super-easy to remove when doing transfer case maintenance (due to our patent pending mounting bracket design), and will last you MANY years of usage on the trail, protecting you and your precious cargo from sitting on the side of the trail, busted-broken, without any sort of remedy in sight.
1/4" thick laser-cut plate steel with gusseting and triangulation galore
High-clearance design for better ground clearance than the optional factory UpCountry skid plate, AND THREE OR FOUR TIMES THICKER!
Beefy 7-bolt mounting design
Separate patent-pending frame bracket for easy skid plate removal during maintenance

 
Able to support the weight of the Jeep on the skid plate by itself
Can be modified to work with most all Transfer Case Drop kits.