Front Skid Plate Kit for 2014-2015 GMC / Silverado 1500 PickUp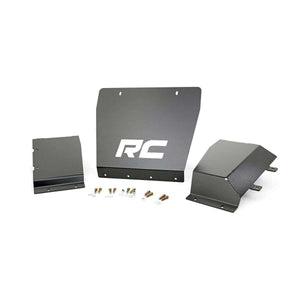 Armor up the underside of your GM 1500 with Rough Country's durable Skid Plate System. This easy-to-install kit is the perfect complement to our popular 5-inch, 6-inch and 7.5-inch Lifted Knuckle Suspension Kits for new model Chevy and GMC 1500's.
Fear no hazard - on or off-road - with this 3-piece rugged skid-plate designed to shield your truck's differential, electric differential actuator, and electric rack and pinion components. Made of high-quality G80 3/16-inch steel, this full belly skid connects from the front cross member to the rear, offering a serious wall of protection from rocks, debris, and other hazards. The front plate features a laser-cut "RC" logo, providing a more aggressive look to the lower front end of your truck. Includes a Limited Lifetime Warranty!
FEATURES
Easy Installation
Made from High-Quality G80 3/16-inch steel
Protects your differential, electric differential actuator, and electric rack and pinion
Features a laser-cut "RC" logo
NOTES
ONLY works with Rough Country 5in / 6in / 7.5in lifted knuckle kits
Applicable 5in Kits - 223.20 / 223.22 / 224.20 / 224.22
Applicable 6in Kits - 226.20 / 226.22 / 227.20 / 227.22
Applicable 7.5in Kits - 228.20 / 228.22 / 229.20 / 229.22
Install Time: 2-3 hours