Jeep ZJ 93-98 50inch Curved LED Light Bar Upper Windshield Mounts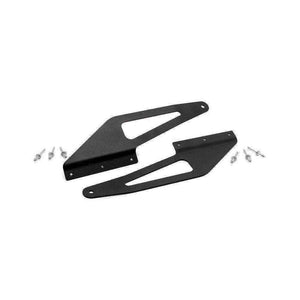 Though it may look unassuming from the factory, the Jeep ZJ can be transformed from a humble grocery-getter to a mean-looking attention getter with the right aftermarket parts. Rough Country's 50-inch Curved LED Light Bar Mounts are the perfect finishing touch to add LED power and aggressive good looks to your 92-98 Jeep Grand Cherokee.
Our durable, steel mounting system is the ultimate solution for adding a Rough Country Curved Dual or Single-Row 50-inch LED Light Bar. With its modern, aerodynamic design, this upper windshield mount holds your 50-inch Curved Light Bar above the top of your windshield, giving you an unobstructed view of the road. All Rough Country Mounts feature our Lifetime Warranty!
Features:
Easy install
Features a durable black powder coat
Compatible with both Single-Row and Dual-Row Curved LED Light Bars
Designed to work with light bars measuring 50-inches from mounting point to mounting point
Compatible with Rough Country 50-inch Curved Dual-Row LED Light Bar (72950)
Compatible with Rough Country 50-inch Curved Single-Row LED Light Bar (72750)
Notes
Requires minor drilling.
Designed to work with 50-inch Curved LED light bars ONLY
Designed to work with light bars measuring 50-inches from mounting point to mounting point
Install Time: 1-2 hours